BMW - BIC - CD / LP - Corgi - DVD/VHS -Filmaffischer - Literature - Links - Spel -Swatch - Vi köper
sida 4 Tillbaka Sida 5
1 2 3 4 5 6 7 8 9 10 11 12 13 14 15 16 17 18 19 20 21 22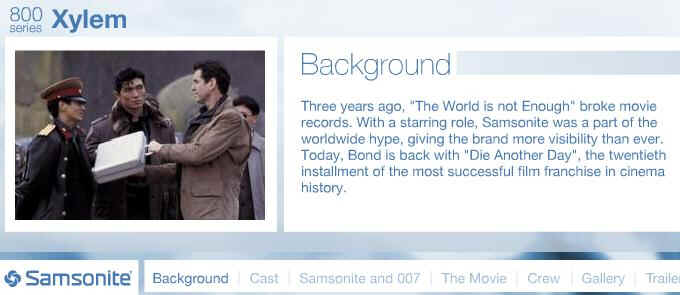 samsonite

Finlandia
| | |
| --- | --- |
| | Finlandia Vodka is one of the world's leading premium vodkas, available worldwide in more than 100 countries. It is a perfect choice for vodka drinkers who appreciate quality, purity and versatility. The refreshing, very clean taste allows Finlandia Vodka to transform from the purest on-the-rocks drink into the soul of the most imaginable cocktails. |
| | |
Goldeneye Pierce Brosnan as James Bond in a 1995 BMW Z3

bmw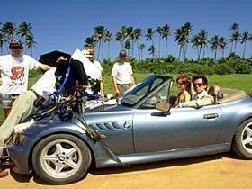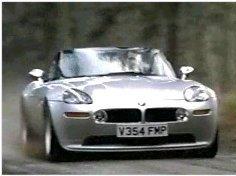 ...........

....THE WORLD IS NOT ENOUGH
automax


Die Another Day will see Pierce Brosnan as James Bond in a Aston Martin V12 Vanquish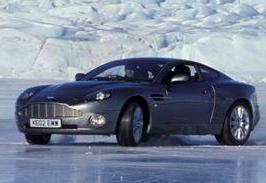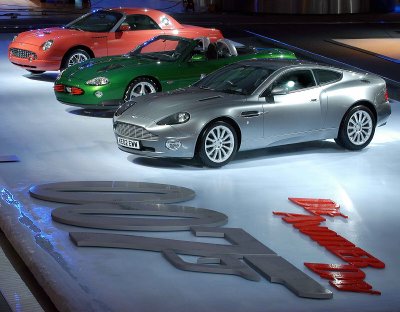 Bond Cars at Birmingham International Motor Show:
Ford Motor Company today unveiled the three cars that will be driven by the lead characters in the new James Bond film, Die Another Day. These are the film-version cars, carrying the features and gadgetry used by each of the respective characters who drive them in the film. Pictured on the far right is the Aston Martin Vanquish V12, which will be driven by James Bond, played by Pierce Brosnan. In the middle is the Jaguar XKR, which will be driven by the film's villain, Rick Yune. On the far left is the Ford Thunderbird, which will be driven by Halle Berry as Jinx. Ford is producing a Limited Edition 007 Ford Thunderbird, similar to the one pictured here -- which will be the first-ever, 007-badged vehicle. The cars were unveiled at the Birmingham Motor Show.(10/22/02)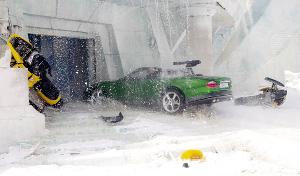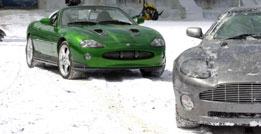 jaguar

JAGUAR REVEALS SECRETS ON NEW BOND JAGUAR XKR

jaguar.dieanotherday
The secret world of MI6 surveillance is revealed on the new Bond Jaguar XKR dossier on www.jaguar.com to coincide with the latest James Bond movie, DIE ANOTHER DAY.
In the Jaguar XKR dossier you can examine all the elaborate weaponry on the interactive gadget briefing and inspect a gallery of snapshots of the Bond Jaguar XKR in action from the movie.
Philishave Launches Sensotec
A World First in Shaving Technology and a Must for James Bond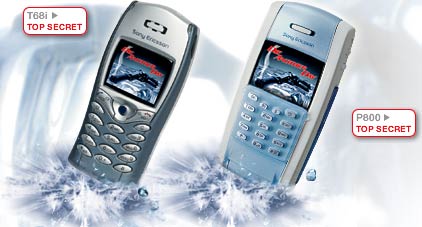 sonyericsson
Die Another Day
Welcome to the Sony Ericsson and James Bond - Die Another Day website.
Tread carefully... you are now entering the gateway to special intelligence about Sony Ericsson and Die Another Day. Make sure you familiarize yourself with equipment specifications and their roles - especially the T68i and P800 communications devices. For your mission to succeed, you must uncover information about the movie and obtain any available gadgets to enhance your standard issue equipment. Your final challenge is to complete our interactive game, which will test your memory and mental agility to their limits. Now it's up to you.

foxfilm.se/dieanotherday

.jamesbond
© 2001-2002 Metro-Goldwyn-Mayer Studios Inc. All Rights Reserved.
Die Another Day ™ trademark United Artists Corporation and Danjaq, LLC.
James Bond materials © 1962-2002 United Artists Corporation and Danjaq, LLC.
007 Gun Logo, James Bond, and all other James Bond related trademarks ™ Danjaq, LLC.
BOLLINGER CHAMPAGNE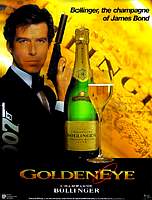 arvid-nordquist.-bollinger ..President Bollinger Ghislain de Montgolfier and Directeur Gunnar Schäfer
Bollinger champagne

We often hear that the House of Bollinger incarnates a style. Most certainly, Bollinger proposes to great wine-lovers something different and unique in Champagne. This specific style is bound to a family history that, for generations, chose to stay close to its land while ensuring it developed its international reputation.
In times of the merging of businesses, the House of Bollinger remains faithful to this tradition. It is one of the last family and independent houses of the Champagne trade and it intends to continue that way
Heirs of the style, the members of the present management clearly asserted their wish to ensure the continuity of the Bollinger style in a Charter of Ethics and Quality, published in March 1992.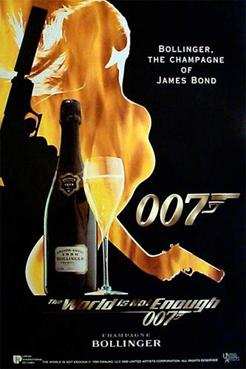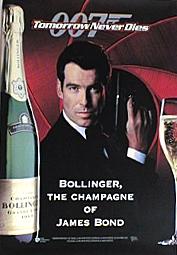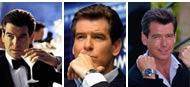 Profession
Actor/ Producer/ Environmentalist
Date of birth
May 16, 1953 in County Meath, Ireland
NationalityIrish
Marital status
Married to Keely Shaye Smith
2 children: Dylan Thomas (1997)
and Paris Beckett (2001)
1 child: Sean (1983) and 2 stepchildren,
Charlotte (1971) and Christopher (1972),
from first marriage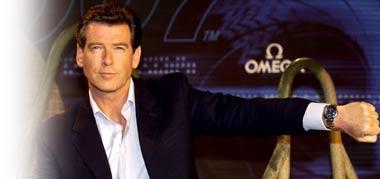 Omega
In addition to numerous other Hollywood blockbuster roles, accomplished actor Pierce Brosnan is most famous for his role as James Bond in the past three Bond movies. Like his alter ego, Brosnan also chooses an OMEGA timepiece.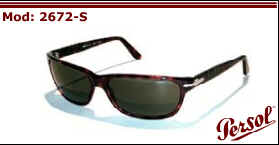 persol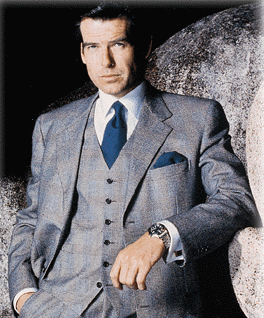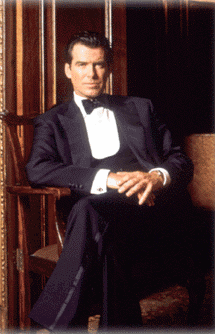 It was with some trepidation that in autumn l994 we accepted to dress Pierce Brosnan in the film GOLDENEYE
Our doubts derived basically from the consideration that our clients include many heads of state, royalty and leading businessmen. How would they react to learning that their tailor was also to dress a young secret agent? Other problems could arise from the fact that the last Bond, whose dress was the least important of all Bonds, was six years ago. Was the glamour of Fleming's creation still alive and relevant in the world?
On the other hand, there were many reasons to be proud and important messages of style to be conveyed. First and foremost, that one could be young, dynamic and also, or perhaps, above all, sexy in a classical tailored suit. Moreover, James Bond, the very symbol of English elegance, has always been dressed by Savile Row tailors, hence the decision to entrust his dress to Brioni symbolises the definitive triumph of Italian fashion.
The film's success exceeded all reasonable expectations, and box-office takings were the highest of all the Bond films. Much of the credit should obviously go to the actor and director, but Bond's wardrobe undoubtely also played an important role in this success. This has not excaped the international press which has dedicated innumerable articles to the "Bond'' look, and even predicted that the success of "GOLDENEYE" will engender the definitive return of the classical style.

brioni


"TOMORROW NEVER DIES"
In this latest spy adventure, based on characters created by the late author Ian Fleming, award-winning costume designer Lindy Hemming once again worked closely with Brioni master tailor Checchino Fonticoli.
Seeking to provide an even more modern edge to the character's tailored look the pair subtly altered the line to a more roped shoulder, with less suppression at the waist.
In addition, the button stance on the handsome actor's suit and sport jackets have been lowered a full inch-a substantial change that allow for an even easier fit that lends a slightly more contemporary yet still classic look to the James Bond style.
Observes Hemming: "The new Brioni clothing that Mr. Brosnan wears in "Tomorrow Never Dies" establishes the James Bond character as a totally modern man of international taste, dressed in classic but contemporary proportions". In the new film, Brosnan's 007 once again advances the unmistakably elegant, classically tailored, three-button, single-breasted silhouette that successfully revived the fashion life of the character in "GoldenEye". In the new film, apart from the meticulously crafted two and three-piece suits in the finest lightweight fabrics hand selected by Hemming, Bond looks remarkably suave in a luxurious, camel colored, classic topcoat hand-tailored by Brioni in 100% cashmere.
For the perennial James Bond scenes where the character steps out in formal wear, Brioni has turned out an insouciant yet subtle twist on tradition: midnight blue rather that black, an invention of Edward VII, the Prince of Wales, who once maintained that the color was "blacker than black" in the glare of bright evening spotlights.
Brosnan never looked better as Bond in his midnight blue, Brioni one-button, single breasted wool barathea tuxedo with peaked silk grosgrain lapels and five-button shawl lapel vest, a rarely seen style popular in the 1930's and making its way back into today's formal fashion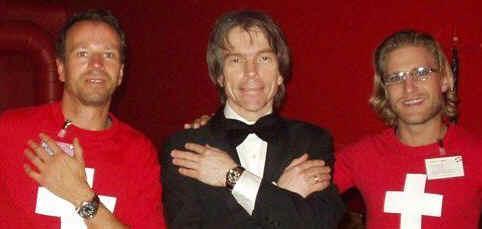 Sverige Chef Peter Roswall ......Directeur Gunnar Schäfer.... Säljare HenrikCedermalm

BMW - BIC - CD / LP - Corgi - DVD/VHS -Filmaffischer - Literature - Links - Spel -Swatch - Vi köper

Tillbaka



info@jamesbond-shop.com

Copyright © 2001-2003 jamesbond-shop.com. All Rights Reserved

James Bond Materials© 1962 - 2002 United Artists Corporation and Danjaq, LLC. 007 Gun Logo© 1962 United Artists Corporation and Danjaq, LLC. 007 Gun Logo, Iris Logo, JAMES BOND and all other James Bond related trademarks - Danjaq, LLC. All Rights Reserved.