CRAIG sat down with entertainment press in Manhattan last week to talk about the other projects he's been working on (such as THE GIRL WITH THE DRAGON TATTOO and the tentatively titled BOND 23). Set to be directed by Academy Award-winner SAM MENDES, the upcoming James Bond adventure will see CRAIG sharing the screen with RALPH FIENNES, JAVIER BARDEM, JUDI DENCH and BEN WHISHAW. CRAIG admitted that, this time around, there will be some changes in his character and he's been working with designer TOM FORD on a new look. (CLICK ON THE MEDIA BAR FOR AUDIO)
BOND 23 is slated for release 11/9/12
http://criticschoice.com/news/?p=12271
Tom Ford designing for 007: Daniel Craig working closely with the tailor
"Tom [Ford]'s doing the suits. In fact, I've spent a long time with Tom getting a very different look and he's been designing a new set of things [for the film].

It's great that he's doing it. It's going to be a new kinda look. It's a new feel. I'm very excited about that. I'm very excited about the suits."
Craig admitted also that he was not as attached as he was to the plush clothing he has the chance to don, explaining he wardrobe fills up fast when working on a Bond film, and would prefer to slouch in tees and jeans when not on 007 duty.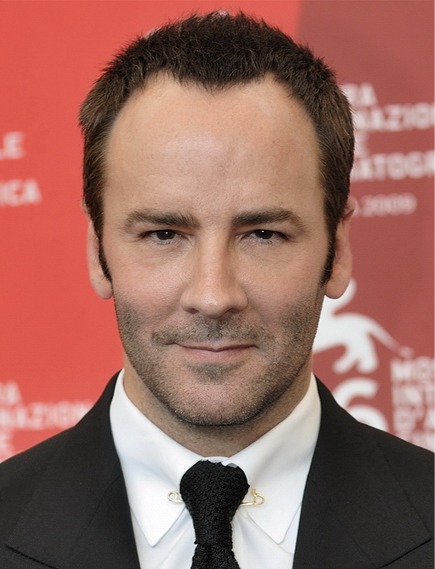 Thomas Carlyle "Tom" Ford (born August 27, 1961)[2] is an American fashion designer and film director. He gained international fame for his turnaround of the Gucci fashion house and the creation of the Tom Ford label before directing the Oscar-nominated film
"A Single Man".

Quantum of Solace
Tom Ford is Bond's tailor for the movie Quantum of Solace. Actor Daniel Craig is reported to have ruined around 40 bespoke suits during filming. "It really is a crime. It makes me weep every time. They're great suits," Craig told the British press.
Tom Ford is very secretive about the items that are used in the movie, but one item is confirmed: a black Cardigan. This cardigan was available in the exclusive Tom Ford retailers but is now sold out.
Another item, still available in stores like Harrods (see photo on the left), is a grey coat which bears the name "James Bond". It is the only Tom Ford clothing item (besides the sunglasses) currently branded as a "James Bond" item. It resembles the coat seen in the last scene of Quantum of Solace, although that one is dark blue or black.
Other Tom Ford items include a jacket, ties, and of course the sunglasses.
http://www.mi6-hq.com/sections/articles/bond_23_
report_sep11f.php3?s=bond23&id=02962
The new James Bond 23 movie will star Daniel Craig and Judi Dench, produced by Michael G. Wilson and Barbara Broccoli, with music by 5-time Bond composer David Arnold. The 007 screenplay will be written by regular James Bond scribes Neal Purvis and Robert Wade, working with John Logan (Gladiator & The Last Samurai). Director of American Beauty and Road To Perdition, Sam Mendes will be directing the new James Bond movie. MGM and Sony Pictures Entertainment in a joint statement on 2nd June 2011 announced that "Bond 23″ will go on release in the UK on Friday, 26th October, 2012 and in the USA on 9th November 2012. Casting is underway and Javier Bardem (No Country For Old Men) is in talks to play the villain. It was also leaked by trade paper Variety, that Ralph Fiennes was cutting short a theatre run in order to appear in the James Bond adventure and in June 2011 British actress Naomie Harris confirmed she was in talks to star in the 23rd James Bond movie.