Gunnar Schäfer name is James Bond Visitors in James Bond Museum Sweden

.

Since 1959 James Bond 007 Museum Sweden, Nybro.
The 007 museum 1000 sq.m. world`s only James Bond 007 Museum
Emmabodav. 20, 38245 Nybro


Contact: 007museum@telia.com

Phone+4648112960 Open Daily 10-17 Sat 10-14 Media To do and see Buy/Köp info Links
James Bond Theme Party PPKGuns Omega Bmw Bollinger Corgi, Cd, Swatch Posters, Specials James Bond store
Sony Ericsson is launching a limited edition Titanium silver C902 Cyber-shot™phone as used by James Bond in the eagerly awaited QUANTUM OF SOLACE partner which will be released worldwide November 2008. The new mobile phone will make sure you are ready for any challenge, immersing you into the world of a secret agent with interactive 007 content and a spy-style game. www.sonyericsson.com/bond
London, UK, 4th August - Sony Ericsson is excited to unveil an exclusive partnership between the Metro-Goldwyn-Mayer Pictures/Columbia Pictures release of EON Productions' 22nd James Bond adventure, QUANTUM OF SOLACE, and the C902 Titanium silver edition. The phone, as used by James Bond - played by actor Daniel Craig in the new film - will be available for a limited period and include a memory card loaded with a host of 007 content.
Sony Ericsson - C902 - Video - WMP - Broadband
SonyEricsson Cybershot C902 James Bond Edition nu är den första bilden kommit till James Bond 007 museet i Nybro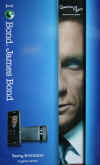 HBH-PV720 007 Bluetooth Headset
Daniel Craig har den nya James Bond telefonen från Sony-Ericsson är en silvrig specialversion av prestigemobilen C902 Cyber-shot. Telefonen, som används av skådespelaren Daniel Craig i den nya Bond-filmen, kommer att säljas under en begränsad tidsperiod och innehåller ett extraladdat minneskort med Bond-material, bland annat ett nytt Bond-inspirerat spionspel.
James Bonds val. Sony Ericssons C902. Den limiterade Bondversionen har ett silverfärgat yttre, med
London, UK, 4th August - Sony Ericsson is excited to unveil an exclusive partnership between the Metro-Goldwyn-Mayer Pictures/Columbia Pictures release of EON Productions' 22nd James Bond adventure, QUANTUM OF SOLACE, and the C902 Titanium silver edition. The phone, as used by James Bond - played by actor Daniel Craig in the new film - will be available for a limited period and include a memory card loaded with a host of 007 content.
Users will get the chance to know exactly what it takes to be a secret agent like James Bond with the first level* of an exclusive pre-loaded spy-style game. In addition, the full colour trailer of the film, behind-the-scenes interviews with the stars and exclusive content such as wallpapers and screen savers will be available on the phone and the memory card**.
The C902 Cyber-shot™ phone is used throughout the film by James Bond to capture evidence and assist the agent on his mission. The 5MP camera, with a unique slide-out lens cover, illuminated touch icons providing quick and easy access to camera options, Face detection, Photo flash and Auto focus enables James Bond to send high resolution shots back to MI6 for quick recognition of his enemies. The phone also offers BestPic™ which allows users to take nine pictures of a moving object simultaneously and choose the best shot to use, plus Picture blogging for uploading photos to blogsites and PictBridge for printing direct to a printer, without the need for a PC or laptop.
In August 2006, Sony Ericsson also teamed up with James Bond to launch the limited edition James Bond Casino Royale silver K800i Cyber-shot™ camera phone and in November 2002 the Sony Ericsson P800 and T68i mobile phones were used by several of the cast in the 20th James Bond film, Die Another Day.
Lennard Hoornik, Corporate Vice President and Global Head of Marketing, Sony Ericsson comments, "We are excited to announce the continuation of our relationship with the James Bond films and unveil James Bond's new phone for this year - the limited edition version of our C902 Cyber-shot™ phone. With the rich array of content both on the phone and preloaded on a memory card bundled with the C902 Titanium silver limited edition, fans of the secret agent will only get more James Bond with Sony Ericsson."
Daniel Craig reprises his role as Ian Fleming's James Bond 007 in QUANTUM OF SOLACE, the Metro-Goldwyn-Mayer Pictures/Columbia Pictures release of EON Productions' 22nd adventure in the longest-running film franchise in motion picture history. The film is directed by Marc Forster. The screenplay is by Neal Purvis & Robert Wade and Paul Haggis. Michael G. Wilson and Barbara Broccoli producer.
The Sony Ericsson C902 Cyber-shot™, - an image and style statement

Launched worldwide in July 2008
Slim Cyber-shot™ phone with unique slide-out lens cover. Camera-ready in an instant
5.0 megapixel camera with Face detection and Auto focus. Always capture the best shot possible
Illuminated camera touch keys. Intuitive guidance around the camera settings
160MB built-in memory – the equivalent of storage for up to 100 full resolution photos – plus the possibility to add even more memory with the Memory Stick Micro™ (M2) that can be bundled with the phone depending on the market.
The phone incorporates the latest in lighting technology – Photo flash – giving better quality pictures even in low-light conditions.
Light solution added to the established BestPic™ feature –take 9 photos in quick succession, choose the best and delete the rest.

The C902 Cyber-shot™ is a UMTS/HSDPA 2100 and EDGE/GPRS 850/900/1800/1900 phone that will be available in selected markets in Titanium Silver in Q4 of 2008 for a limited period.

*Level 1 will be available in selected markets with additional levels made available through Sony Pictures

**Content pre-loaded onto the phone:

Welcome message
Dynamic screensavers
Static and dynamic wallpapers
James Bond mobile theme
QUANTUM OF SOLACE movie trailer

Content pre-loaded onto the memory stick:

Newswraps x 3 (behind the scenes interviews and footage from the movie and it's stars)
Wallpapers x 5
Screensaver x 1
Activision trailer
"Top Agent" game

Sony Ericsson C902 Cyber-shot™ – At a Glance

C902 Cyber-shot™

Camera

Auto focus
Auto rotate
BestPic™
5 megapixel camera
2.5x digital zoom
Face detection
Photo fix
Photo flash
Picture blogging
Video recording
Video light
Video stabiliser
Image stabiliser

Music/Entertainment/Navigation

Media player
Mega Bass™
Music tones (MP3/AAC)
PlayNow™
TrackID™
FM radio
Java
Media
Video streaming
Video viewing
3D games

Web/Internet

Access NetFront™ Web browser
RSS feeds


Organiser

Alarm clock
Calculator
Calendar
Flight mode
Notes
Phone book
Stopwatch
Tasks
Timer

Accessories

In-Box:

Battery,
Charger,
USB cable,
Stereo Portable Handsfree
Wrist strap in leather
Sony Ericsson PC Suite
Media Manager
User guide

Optional:
USB Card Reader CCR-70
Transfer photos and more easily from your phone to a PC.

Bluetooth™ Headset HBH-PV712
A powerful wireless handsfree with extra Style-up™ cover

GPS-Enabler HGE-100
Add GPS technology to your phone. Know where you are, where you're going and how to get there

Design Collection IDC-23
Black leather case with a separate credit card compartment, matching hand strap and detachable jewellery

Facts and Figures
Size: 108 x 49 x 10,5 mm
Weight: 107 grams

Colours:
Titanium Silver

Screen: 262,144 colour TFT
Resolution: 240x320 pixels
Size: 2 inches

Phone memory: Up to 160MB
Memory Stick Micro™ (M2™) support

Talk time GSM: Up to 9 hrs
Standby time GSM: Up to 400 hrs

Talk time UMTS: Up to 3.5 hrs
Standby time UMTS:
Up to 350 hrs

Availability and Versions
Networks:
UMTS/HSDPA 2100

GSM/GPRS/EDGE
850/900/1800/1900



HBH-PV720 007 logo Bluetooth Headset

FUNKTIONER Sony Ericsson C902

5.0 Megapixels Cybershot™-kamera med 16 x digital zoom, autofokus och fotoblixt.
BestPic™ för fler bilder i en följd
Stöd för Turbo 3G
Stöd för Windows Live Messenger och Hotmail
Stöd för 3Mobil TV - TV direkt i din mobil.
Stöd för Skype
FM radio med RDS
Mediaspelare för musik (MP3, MP4, AAC, Midi, Wav m.fl.) och video (MPEG4)
Videosamtal
Bild- och video-MMS
Quad-band

MINNE

160 MB inbyggt minne
2 GB Memorystick Micro (M2) medföljer (med Bond edition medföljer istället 512mb minneskort och bluetooth-headset)
Expanderbart upp till 4 GB med Memorystick Micro (M2)

BATTERI

Standbytid 300 timmar*
Taltid upp till 300 minuter*
*Tillverkarens uppgift

Till varje Sony Ericsson C902 medföljer:

Stereoheadset
USB-kabel
2GB M2 Minneskort
HBH-PV720 007 Bluetooth Headset
CCR-70 (M2 Minneskortsadapter)
Batteri BST-38 (930mAh)
Laddare
QuickStart guide
Användarguide & CD-Rom
T68i. Express Yourself - Any Way You Choose
The T68i is the first phone on the market that truly delivers all those often-heard promises about 'the future of mobile communications'. This stylish handset is the most expressive way to communicate on the move, with color imaging & gaming, multimedia capability, fantastic usability, great looks and the latest mobile technology. Don't wait for the future - just buy a T68i and experience it now!


Den stora displayen

Det är svårt att förstå hur stor P800:s display är. Med 40 x 61 mm (208 x 320 bildpunkter) finns det gott om plats att visa de bilder du har tagit med den inbyggda digitalkameran, titta på en film du har laddat ner från det mobila Internet eller skriva och skicka multimediarapporter till kontoret via MMS eller e-post. Berika din mobilkommunikation med bilder på ditt eget sätt.
Dela med dig och ha kul


Die Another Day T68i P800

Silver K800 i James Bond-version



Med Bluetooth™ kan du direkt upprätta en trådlös anslutning som fungerar även när det finns föremål i vägen. Skicka filmklipp till en kompis eller låt andra enheter använda P800 som modem för att ansluta till Internet utan kablar. Maximera möjligheten att dela information med P800 med hjälp av Memory Stick™. Memory Stick™ kan utökas från sina ursprungliga 16 MB till hela 128 MB så att du kan använda P800 till att säkerhetskopiera data, skicka programvara, överföra filer mellan en PC och P800 eller mellan två P800-enheter... Möjligheterna – och nöjet – är oändliga.
Professionella verktyg

Det är som att ha ett kontor i fickan. E-post, kalender, kontakter, uppgiftslista, dokumentvisningsprogram och en webbläsare gör att du kan hålla kontakt med världen. Surfa säkert med WAP, WWW och cHTML och ladda ner, spara och spela upp dina favoritlåtar med den inbyggda digitala flerformatsljudspelaren (stöder formaten MP3, WAV, AMR och AU). Och vad sägs om röstkommandon och röstmemofunktion som en extra finess? Du behöver aldrig mer skriva några komihåg-lappar till dig själv.
Sony Ericsson släpper James Bond-telefon
Datum: 2006-10-12
Upplev Casino Royale i din telefon

Silverfärgad K800 i James Bond-version


2006-10-12

Sony Ericsson har produktplacerat de båda modellerna K800 och M600 i den kommande Bond-filmen Casino Royale. Som ett led i detta börjar man nu sälja en speciell James Bond-variant av K800.

Den nya versionen av K800 är silverfärgad, och det är den mest påtagliga skillnaden mot den vanliga K800. De riktigt hängivna beundrarna av den hemliga agenten lär nog också uppskatta att Sony Ericsson lagt in ringsignaler och bakgrundsbilder med Bond-tema samt trailers från filmen.

Den silverfärgade utgåvan av K800 ska börja säljas under fjärde kvartalet och kommer att säljas under en tremånadersperiod.

Sony Ericsson släpper James Bond-telefon Sony Ericsson

presenterar idag en silverfärgad James Bond-version av den populära

Cyber-shot-telefonen K800. Specialutgåvan av denna kameratelefon används av

världens mest kända hemliga agent i den efterlängtade Bond-filmen

Casino Royale

.

Den silverfärgade kameratelefon, till försäljning endast under tre månader, hjälper

James Bond att övervaka skurkar, men fungerar lika bra för vanliga dödliga som vill

ha en förstklassig kameratelefon.



Casino Royale går upp på svenska biografer den 24 november och är baserad på Ian
Flemmings första Bond-bok. I huvudrollen som världens smidigaste, hetaste och mest
dödliga agent ser vi Daniel Craig.

– Detta är ytterligare ett exempel på hur Sony Ericsson samarbetar med Sony Pictures. Våra
modeller K800 och M600 spelar en viktig roll i den actionfyllda Casino Royale och vi kommer
att lägga stor kraft på promotion och markandsföring kopplad till Casino Royale, Jan Wäreby,
Vice President på Sony Ericsson.

Den silverfärgade K800 passar utmärkt ihop med James Bonds coola, självsäkra och
sofistikerade stil. Cyber-shot-telefonen har en 3.2 megapixelkamera med de senaste
kamerafunktionerna: autofokus, Xenon-blixt samt funktionen BestPic som hjälper
användaren att fånga de perfekta ögonblicken. Användaren tar nio bilder med ett enda
avtryck och väljer sedan vilken eller vilka bilder han eller hon vill spara. En perfekt funktion
när man till exempel fotograferar rörliga objekt som är svåra att fånga i bild. När en bild har
tagits går det blixtsnabbt att blogga den på Internet eller dela med sig av bilden till familj,
vänner eller medarbetare på MI6.


Den limiterade James Bond-telefonen innehåller självklart 007-inspirerat innehåll så som
Bond-bakgrunder, särskilda ringsignaler och rörliga filmtrailers från Casino Royale.

Den silverfärgade specialutgåvan släpps i hela världen under det fjärde kvartalet 2006.

Sony Ericsson K800i - James Bond Silver Edition




Allmän produktfakta

Här finner du egenskaperna hos produkten. Ifall du anser att något är fel kan du, om du är inloggad, själv föreslå förändringar genom knappen längst ner.

Egenskap
Värde
Allmänt
Design
Standard
Display
Färg
Dubbla skärmar

Nej

Högtalarfunktion

Ja

Inbyggd kamera

Ja

Videoinspelning

Ja

Max upplösning (video)
176x144 pixlar
Optisk zoom

Uppgift saknas

Max upplösning (stillbild)
2048x1536 pixlar
Inbyggd blixt

Ja

Effektivt antal pixlar
3,2 megapixlar
Digital zoom
16 ggr
Antal kameror
2
Internminne
64 MB
Pekskärm

Nej

Processorhastighet

Uppgift saknas

Qwerty-tangentbord

Nej

RAM-minne

Uppgift saknas

ROM-minne

Uppgift saknas

SAR-värde
0,66 W/kg
Stand By-tid
350 h
Taltid
2,3 h
Skärmstorlek
2 Tum
Skärmupplösning
240x320 pixlar
Anslutningar
USB

Uppgift saknas

Dekodrar
Bildläsning

Ja

FM-radio

Ja

RDS-radio

Ja

MP3

Ja

WAV

Ja

WMA

Ja

DivX

Uppgift saknas

MPEG1

Uppgift saknas

MPEG2

Uppgift saknas

MPEG4

Ja

Xvid

Uppgift saknas

Dimensioner
Mått (BxHxD)
105x47x22 mm
Vikt
115 g
Kompatibilitet
3G (UMTS)

Ja

Bluetooth
2.0+EDR
Bluetooth-profil
A2DP
Dual/Trippelband
Trippel
EDGE

Nej

Flygläge

Ja

GPRS

Ja

GPS-navigering

Nej

IR

Ja

Java

Ja

Minnesexpansion

Ja

Minnestyp
Memory Stick Micro
Medföljande minneskort

Nej

MMS

Ja

Operativsystem
Tillverkarens egenutvecklade
Push-to-talk

Nej

Trådlöst nätverk

Nej

WAP
2.0
Ljudegenskaper
Inbyggda högtalare
Mono
Övrigt
Lanseringsår (ÅÅÅÅ)
2006
Produkthemsida

Uppgift saknas
Bond väljer Sony Ericsson

2006-10-12 11:38



Sony Ericsson använder sig av ett gammalt Ericsson-trick för att öka intresset kring bolagets mobiler. Bolaget använder sig av produktplacering i den nya Bond-filmen.

Sony Ericsson har haft stora framgångar med sin kameramobil K800. Nu används telefonen för produktplacering. Och det är inte vilken Sony Pictureshjälte som helst som använder luren, utan världens mest kända agent, James Bond.

I Casino Royal, som har premiär i november, har Bond - som spelas av Daniel Craig - fått en silverfärgad K800. Denna version av modellen kommer påpassligt nog att säljas, "i begränsad upplaga", under tre månader.

Även handdatormodellen M600 har fått en roll i Casino Royal.

Redan 1997 använde sig Bond av en produktplacerad mobil, då i filmen Tomorrow Never Dies. Skådespelaren Pierce Brosnan använde då Ericssontelefonen JB 988 för att bland annat styra sin bil.
Telefonen var bara en specialdesignad prototyp och nådde aldrig marknaden.

2001 ringde Angelina Jolie, i rollen som actionhjälten Lara Croft, med Ericssonluren R310. Denna handdatormobil kunde dock biopubliken köpa efter att ha sett filmen.

Och 2002 greppade Bond för första gången en Sony Ericsson, i filmen Die Another Day.

"Även om Bond som varumärke kanske vänder sig till en något äldre publik så passar han vårt varumärke", säger Sony Ericssons vice vd Jan Wäreby, som var med på Ericssontiden.

Att sedan Colombia Pictures, som producerar filmen, nu är del av Sony gör det lite lättare för Sony Ericsson. Jan Wäreby hävdar dock att villkoren alltid är kommersiella.

"Vi hjäper varandra på många olika sätt. Det är klart att det blir lättare inom familjen. Arrangemangen ser lite olika ut", berättar han.

Han tycker att Sony Ericsson bidrar till Sony genom att exempelvis packa med musik i Walkmantelefoner.
"I Latinamerika har vi blivit en av de stora musikdistributörerna", säger Jan Wäreby.



Package Contents ( Along with Original Boxing )
1 Sony Ericsson M600i White
1 Li-ion battery
1 64MB Memory Stick Micro Memory Card
1 Travel Charger
1 User manual (plastc was never removed)
1 Cd
1 Data Cable
It will also Include a HPM-70 InEar Headphone(Black). since I can't fine the one that came with

the Phone.

Specification
General: Network UMTS / GSM 900 / GSM 1800 / GSM 1900
Size: Dimensions 107 x 57 x 15 mm
Weight 112 g
Display: Type Tft touchscreen, 256K colors
Size 240 x 320 pixels, 39 x 53 mm
- Qwerty keyboard
- Handwriting recognition (English and Chinese)
Ringtones: Type Polyphonic (40 channels), MP3, AAC
Customization Composer, download
Vibration Yes
Memory: Phonebook In memory, 12 fields, Photo call
Call records Yes
Card slot Memory Stick Micro (M2), 64 MB card included
- 80 MB shared memory
Data: GPRS Class 10 (4+1/3+2 slots), 32 - 48 kbps
Hscsd Yes, 43.2 kbps
Edge No
3G Yes, 384 kbps
Wlan No
Bluetooth Yes, v2.0
Infrared port Yes
USB Yes, v2.0
Features: OS Symbian OS v9.1, UIQ 3.0
Messaging SMS, MMS, Email, Instant Messaging
Browser HTML (Opera , RSS reader
Games Gofl, QuadraPop + downloadable
Colors Crystal White
Camera No
- Java MIDP 2.0
- Video playback
- Media Player (MP3, AAC)
- T9
- Sync ML
- Office applications
- Organiser
- Photo album
- Voice memo
Battery Standard battery, Li-Po 900 mAh (BST-33)
Stand-by Up to 340 h
Talk time Up to 7 h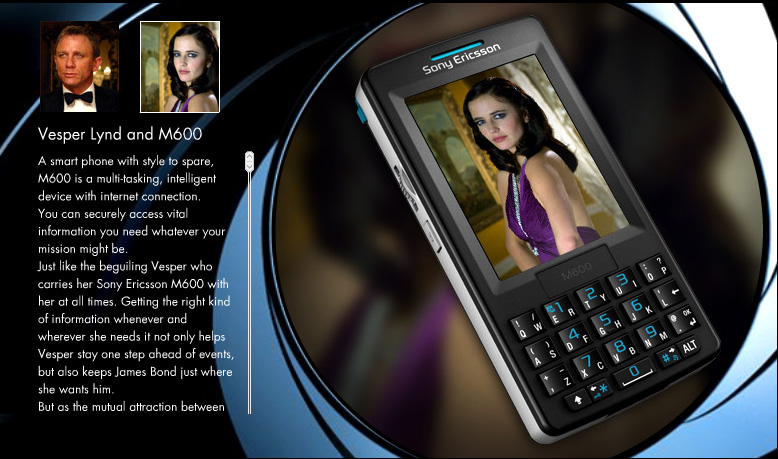 Sony Ericsson M600i

A Sony Ericsson M600i (in chrystal white color) mobile phone is used by Vesper (Eva Green) in the 2006 James Bond film Casino Royale. In one of the last scenes the SMS sound can be heard (check below for that sms alert sound) and Bond picks up the phone and reads a message that suddenly makes him understand the real intentions of his Bond-girl.

Specifications
Size: 105 x 54 x 15mm / 4.1" x 2.1" x 0.6"
Weight: 112 g / 4 oz
Screen: 262,144-colour TFT - 240x320 pixel
Memory: Memory Stick Micro (M2) support
Phone memory: 60MB
Networks: GSM 900, GSM 1800, GSM 1900, UMTS
Retail price in 2006: $355.99
Copyright © 1959-2017 www.007Museum.com All Rights Reserved


James Bond 007 Museum Nybro, Sweden . www.007museum.com
Contact: 007museum@telia.com , tel. +46-481-12960 .Open Daily 10.00 - 17.00 (lunch 13-14) Sat 10.00-14.00
Adress: James Bond 007 Museum, Emmabodav.20, 382 45 Nybro, Sweden 0481-12960
James Bond Materials© 1962 - 2017 United Artists Corporation and Danjaq, LLC. 007 Gun Logo© 1962 United Artists Corporation and Danjaq, LLC. 007 Gun Logo, Iris Logo,
JAMES BOND and all other James Bond related trademarks - Danjaq, LLC. All Rights Reserved. Copyright