Helt nya Ford Ka gör det är debut i Quantum av Solace
BOND MOVIE ROLE FOR NEW FORD KA

Ford's cheeky new small car will make its screen debut alongside the film's beautiful but feisty leading lady, Olga Kurylenko. Kurylenko plays Camille, a woman with her own personal mission and who quickly becomes an unlikely ally for Bond.

The 'Quantum of Solace' Ka is unique with metallic gold paint and an exclusive exterior graphics and interior trim combination.

"The new Ka is the perfect match for the character of Camille – adventurous, individual and thoroughly modern," says Ford of Europe's Chief Operating Officer, Stephen Odell. "We are delighted that the launch of the film coincides with the launch of such a significant new model for Ford of Europe."

The special 'Quantum of Solace' Ka was created by Ford of Europe's Design team, in collaboration with the movie's Oscar ® award-winning production designer, Dennis Gassner. The Ka's cameo continues Ford of Europe's relationship with the James Bond films, following the debut appearance of the latest Ford Mondeo, in the 2006 blockbuster, 'Casino Royale'.

Twelve years after the original Ford Ka wowed customers with its modern spirit and what has proved to be a remarkably age-less design, its successor looks set to repeat its impact.

The new model retains all the qualities which made the Ka so popular – compact size, great looks, lively dynamics and fun personality – but presents them in a fresh new package. Further technical details of the new Ford Ka will be revealed closer to launch later in 2008.

'Quantum of Solace' is produced for EON Productions by Michael G. Wilson and Barbara Broccoli and distributed by Sony Pictures Entertainment.

Directed by Marc Forster, the film stars Daniel Craig as the legendary secret agent, James Bond and opens in the UK and France on October 31st, then across the rest of Europe during November 2008.
Ford har lyckats produktplacera Ka i nya Bond-rullen Quantum of Solace. Men den körs inte av Daniel Craig, utan av Olga Kurylenko.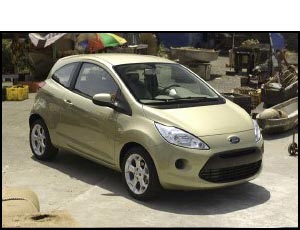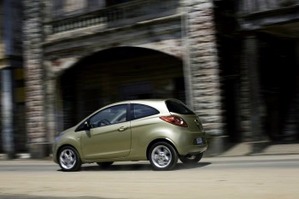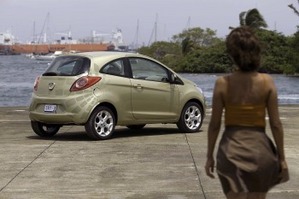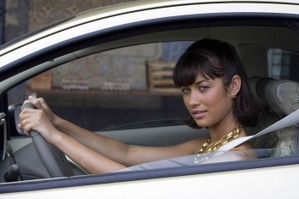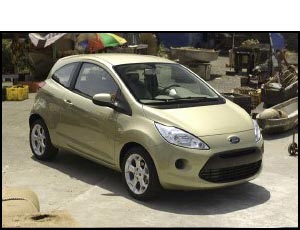 Ford Ka stjärnor i senaste Bond-film
Ford's new Ka is going to be a film star. Fords nya Ka kommer att bli en filmstjärna. Continuing Ford's relationship with the James Bond film series, the Ka will appear in the latest spy thriller Quantum of Solace, driven by Ukranian actress Olga Kurylenko. Fortsatt Fords relation med James Bond-film serie, Ka kommer att visas i den senaste spy thriller Quantum av Solace, driven av ukrainska skådespelerskan Olga Kurylenko.
Kurylenko plays Camille in the Mark Foster-directed thriller. Kurylenko spelar Camille i Mark Foster-directed thriller. The Russian-Bolivian agent is initially pitted against Bond, again played by Daniel Craig – but turns ally when she realises she shares his vendetta with the man that killed Vesper Lynd in Casino Royale. Den rysk-bolivianska agent är ursprungligen kämpar emot Bond, återigen spelas av Daniel Craig - men blir allierad när hon inser att hon delar hans vendetta med mannen som dödade Vesper Lynd i Casino Royale.
The film car is unique – it's primped with metallic gold paint and an exclusive exterior graphics and interior trim combination – and was developed in collaboration with Dennis Gassner, the movie's Oscar award-winning production designer. Filmen bil är unik - det är primped med metalliskt guld färg och en exklusiv exteriör grafik och invändig klädsel kombination - och utvecklades i samarbete med Dennis Gassner, filmens Oscar prisbelönt produktion designer. The production Fiesta makes its debut in October at the Paris motor show. Produktionen Fiesta gör sin debut i oktober vid Paris Motor Show. Quantum of Solace is the last in Ford's three-film deal that began with 2002's Die Another Day – and fortunately Bond still gets to drive his Aston Martin DBS . Quantum av Solace är den sista i Fords tre-film uppgörelse som började med 2002's Die Another Day - och lyckligtvis Bond fortfarande bli att köra hans Aston Martin DBS.
NYA FORD KA FÖRGYLLER NYA BOND-FILMEN
Göteborg, 18 augusti 2008 - Nya Ford Ka spås bli en stjärna på catwalken under Paris Motorshow i oktober. Månaden efter har den världspremiär som bi(l)rollsinnehavare i den nya Bond-filmen "Quantum of Solace" - en uppföljare på Casino Royale från 2006.
Den lilla trendigt uppnosiga och förgyllda citybilen körs av Camille, en temperamentsfull dam spelad av Olga Kurylenko som blir en oväntad allierad med James Bond, Daniel Craig.
Det är en mycket strategisk produktplacering som Ford Europa genomför med den nya bilmodellen - de senaste årens Bond-filmer har blivit både publik- och kassasuccéer över hela världen.
"Den nya Ka-modellen gör en cameo, d v s spelar sig själv i Bond-filmen", berättar Ola Norberg, informationsansvarig hos Ford Sverige.
"Bilmodellen matchar rollkaraktären Camille perfekt - äventyrslysten, individuell och modern. De är båda stora personligheter."
"Därför är vi mycket tillfredsställda med att kunna lansera nya Ford Ka parallellt med den nya storfilmen", fortsätter Norberg.
Den Ford Ka som Camille kör är guldlackerad, och väcker givetvis associationer till den förgyllda Auric Goldfinger spelad av Shirley Eaton i Bond-filmen med samma namn från 1964. Men det stannar bara vid associationer - intrigen i Quantum of Solace är en helt annan.
Det är andra Bond-filmen på rad som Ford medverkar med bilar. I Casino Royale fanns Ford Mondeo med bland bi(l)rollsinnehavarna.
Ola Norberg
Tel: 031-325 17 79
Alt tel: 0708-20 70 20