Quantum of Solace sponsors, partner: Smirnoff Swatch, Sony Ericsson C902, Omega Seamaster, Bollinger Champagne, Heineken. Ford Ka
007 museum looks back at the literary roots of James Bond's world famous drink "the Vesper", better known as the vodka martini.
Why does Bond like it Shaken and Not Stirred?


Varför Bond gillar det skakas och inte Stirred?
When a Martini is stirred with ice the drink ends up completely clear but Bond prefers the cloudy effect and the extra chill that is given when the mixture is shaken (The shaking breaks up the ice more). När en Martini rörs med is drycken hamnar helt klart men Bond föredrar molniga effekt och extra chill som är given när blandningen skakas (De skakar bryter upp isen mer).
James Bond nästa utflykt i Quantum av Solace, kommer att backas upp av ett £ 50m reklamkampanj från de företag vars produkter kommer att visas i filmen.
T

Bond franchise har länge varit en favorit med märken, men 007 - nu Daniel Craig, som bilden ovan med co-star Olga Kurylenko - har blivit mer sparsmakad ungefär som han gör affärer med.
Sony Pictures har skurit ned antalet produktplacering efter 2002's Die Another Day hade så många som kritiker dubbat det Köp Another Day.
De beskrivna för Quantum är Ford, Heineken, Omega, Smirnoff, Sony och Virgin Atlantic. T Den metalliskt guld Ford Ka drivs av Kurylenko blir allmänt tillgänglig i november och Sony Ericsson C902 Cybershot mobiltelefon kommer också att inledas när bilden är släppt.
Smirnoff har längst historia med Bond. The Diageo ägda varumärken dök upp i 1962's Dr No, även om den hemliga agenten hade en kort slänga med rivaliserande Finlandia.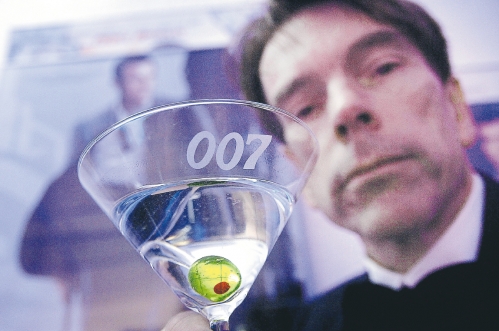 JAMES BOND's next outing, in Quantum of Solace, will be backed by a £50m advertising campaign from the companies whose products will appear in the movie. The Bond franchise has long been a favourite with brands, but 007 - now Daniel Craig, pictured above with co-star Olga Kurylenko - has become more choosy about who he does business with.

Inspired by QUANTUM OF SOLACE, SMIRNOFF has created three new drinks to update the character's namesake cocktail -- The Vesper, the 007 Shaken Not Stirred Martini and the Quantum of Solace are the newest SMIRNOFF cocktails designed to capture the essence of Bond's vodka of choice. Shaken, not stirred, and always in control. Please drink responsibly.

The companies lined up for Quantum are Ford, Heineken, Omega, Smirnoff, Sony and Virgin Atlantic. The metallic gold Ford Ka driven by Kurylenko will become generally available in November and the Sony Ericsson C902 Cybershot mobile phone will also be launched when the picture is released.

Smirnoff has the longest history with Bond. The Diageo-owned brand appeared in 1962's Dr No, although the secret agent did have a brief fling with rival Finlandia.
Did you know?
James Bond immortalised the Vodkatini through his preferred 'shaken, not stirred' preparation in the 1962 film 'Dr. No'. The brand was most recently seen in the remake of 'Casino Royale'.