James Bond Homepage
007museum@telia.com
Donations/Gåvor
James Bond Museum



EON Productions movies


1. Dr No
2. Form Russia With Love
3. Goldfinger
4. Thunderball
5. You Only Live Twice
6. On Her Majesty`s Secret Service
7. Diamonds Are Forever
8 Live And Let Die
9. The Man With The Golden Gun
10.The Spy Who Loved Me
11.Moonraker 1979
12.For Your Eyes Only 1981
13.Octopussy 1983
14.A View To A Kill 1985
15.The Living Daylights
16.Licence To Kill
17.Goldeneye
18.Tomorrow Never Dies
19.The World Is Not Enough
20.Die Another Day
21.Casino Royale
22.Quantum Of Solace
23.James Bond
24.James Bond

Not included in
Bondserie or
EON Productions
Casino Royale 1954
Casino Royale 1967
Never Say Never Again 1983

Producer
Albert "Cubby"Broccoli
Harry Saltzman
Barbara Broccoli
Michael G,Wilson

Writers to all Bond books
Ian Fleming
Amis Kingsley
Raymond Benson
John Gardner
Charlie Higson
Sebastian Faulks
Bondbooks

James Bond actors
Barry Nelson
Sean Connery
George Lazenby
Roger Moore
Timothy Dalton
Pierce Brosnan
Daniel Craig

James Bond Composers
Monty Norman 1
John Barry 11
George Martin 1
Marvin Hamlisch 1
Bill Conti 1
Michael Kamen 1
Eric Serra 1
David Arnold 5
James Bond Music
22 Best Bondsoundtrack
Music - GoldenEye

Credits
Music By: Eric Serra
James Bond Theme: Monty Norman
Main Theme Performed By: Tina Turner
Main Theme Written By: Bono and The Edge
Album Label: EMI / Virgin
Single Label: Parlophone / Virgin
Highest Chart Position: 2 (France)

Additional
"Stand By Your Man" by Billy Sherril and Tammy Wynette performed by Minnie Driver (heard in Zukovsky's nightclub).

History
The soundtrack to the 17th James Bond film by EON Productions was composed by Éric Serra, best known for his collaborations with French director Luc Besson on Le Femme Nikita, The Professional, The Fifth Element, and The Big Blue.

The most prolific composer of the Bond series, John Barry, reportedly turned down an offer to return, feeling the 80's and 90's films had become imitations and were too formulaic.

Serra composed and performed a number of synthesizer tracks, including the version of the James Bond Theme that plays during the gun barrel sequence, while John Altman and David Arch provided the more traditional symphonic music. It was released on CD by EMI on November 14, 1995.


Above: Album cover artwork (top) and the "GoldenEye" CD single sleeve.

Goldeneye Tina Turner GOLD CD
"I was a big fan of James Bond when I was a kid. I have seen the movies at least 10 times each. It was funny to be hired to compose for this series as it's such a legend. The first cues I composed were a real surprise, even to me, because when I saw the footage put to the music it suddenly gave James Bond a really new thing. I don't have a special approach because it's a special movie - I think each movie I've scored has been special to me." - Eric Serra
Serra's score is often slammed by Bond fans and received a mauling by critics at the time of release, and is considered the farthest departure from a traditional Bond score in the series history. Whilst the use of synthesizers was met with disdain by almost everyone except his ardent fans, Serra did manage to use his usual London Session Studio Orchestra for the romantic scenes in the movie. The Bond motif is only used twice in the score - the least in the franchise except Casino Royale where David Arnold deliberately teased listeners until the final scene. Serra also neglected to use anything from the movie's title song.

The producers later hired the score's conductor John Altman to provide the music for the tank chase in St. Petersburg. Serra's original track for that sequence can still be found on the soundtrack as "A Pleasant Drive In St. Petersburg". The incidental music for the film has thus far been the only collaboration on a James Bond film. Altman's track was not included on the CD release.
The song was written especially for Turner by Bono and The Edge of U2 when they learned that she had been offered to sing the theme to the upcoming Bond movie, and the track was produced and mixed by renowned British producer/remixer/composer Nellee Hooper, best-known for his work with Massive Attack, Madonna, U2 and Björk.

The GoldenEye theme became one of the highest-charting hit singles of Turner's career, reaching #10 on the UK Singles Chart and a Top 5 hit in most European countries. It as released as a cassette and CD single by Parlophone in the UK and Virgin in the US. Prominent DJ, David Morales, has performed a club remix of the song, while record producer Dave Hall has provided a more urban flavour on his remix, both versions were included on the European 4 track CD single. "GoldenEye" was released on the original motion picture soundtrack and the following year it was included on Turner's album Wildest Dreams.

The film features the song "Stand By Your Man" by Tammy Wynette. The song is performed in the film by Minnie Driver in the scene in which Bond confronts Zukovsky . Intended to be a comic moment, Driver intentionally sings the song off-key in an exaggerated Russian accent.

Single Chart Tracker




| | |
| --- | --- |
| Chart | Peak # |
| France | 2 |
| Poland | 2 |
| European Top 100 | 3 |
| Finland | 3 |
| Switzerland | 3 |
| Austria | 5 |
| Belgium (Wallonia) | 6 |
| Italy | 6 |
| Sweden | 6 |
| Belgium (Flanders) | 9 |
| Germany | 9 |
| Norway | 9 |
| UK | 10 |
| US Hot 100 | 10 |
| Spain | 12 |
| Ireland | 15 |
| Netherlands | 15 |
| US Dance | 22 |
| US R&B | 89 |
| Australia | 99 |
The theme song, "GoldenEye", was written by Bono and The Edge of Irish rock band U2, and was performed by Tina Turner.
The Swedish group Ace of Base were also involved at one point, producing a song also called "GoldenEye".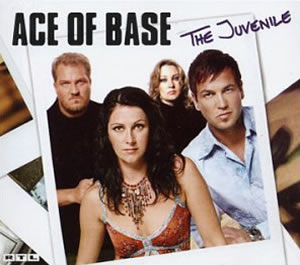 ACE OF BASE THE JUVENILE (GOLDENEYE)
Call Number
CD - Virgin 8410482 / CDVUS100 (Italy, 1995)
CD - Virgin 8410482 / CDVUS100 (Ne, 1995)
CD - EMI Capitol 7-2435-41423-2-1 (USA, 2003) - to be released 25 February 2003
Track Listing

| | | |
| --- | --- | --- |
| 1. | Goldeneye (Performed By Tina Turner) | 4.46 |
| 2. | The Goldeneye Overture | 4.24 |
| 3. | Ladies First | 2.44 |
| 4. | We Share The Same Passions | 4.46 |
| 5. | A Little Surprise For You | 2.02 |
| 6. | The Severnaya Suite | 2.07 |
| 7. | Our Lady Of Smolensk | 1.01 |
| 8. | Whispering Statues | 3.26 |
| 9. | Run, Shoot, And Jump | 1.05 |
| 10. | A Pleasant Drive In St. Petersburg | 4.28 |
| 11. | Fatal Weakness | 4.43 |
| 12. | That's What Keeps You Alone | 3.17 |
| 13. | Dish Out Of Water | 3.57 |
| 14. | The Sacle To Hell | 3.43 |
| 15. | Forever James | 2.01 |
| 16. | The Experience Of Love (Performed By Eric Serra) | 5.57 |

Goldeneye Tina Turner GOLD CD
Goldeneye Tina Turner GOLD CD
Soundtrack Listing
1. "GoldenEye" – Tina Turner
2. "The GoldenEye Overture: Half of Everything Is Luck/The Other Half Is Fate/For England, James"
3. "Ladies First"
4. "We Share the Same Passions: The Trip to Cuba/The Same Passions"
5. "Little Surprise for You: Xenia/D.M. Mishkin"
6. "The Severnaya Suite: Among the Dead/Out of Hell/The Husky Tribe"
7. "Our Lady of Smolensk"
8. "Whispering Statues: Whispers/Two Faced"
9. "Run, Shoot, and Jump"
10. "A Pleasant Drive in St. Petersburg"
11. "Fatal Weakness"
12. "That's What Keeps You Alone"
13. "Dish out of Water: A Good Squeeze/The Antenna"
14. "The Scale to Hell: Boris and the Lethal Pen/I Am Invincible"
15. "For Ever, James"
16. "The Experience of Love" – Eric Serra
Total Time: 54:34
Theme Song Versions
1. Soundtrack album version/Wildest Dreams album version (U.S.) - 4:43
2. Single Edit/Wildest Dreams album version (Europe) - 3:31
3. A/C Mix - 4:02
4. Urban A/C Mix by Dave Hall - 4:58
5. Club Edit by David Morales - 4:02
6. Morales Club Mix - 10:00
7. Morales 007 Dub - 9:37
8. Morales Dub Of Bond - 5:36
9. Video Edit - 3:20