The Saab 900 arrives with James Bond at the wheel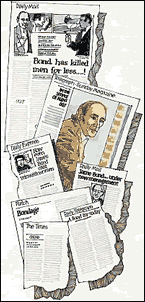 A few years ago, the very idea that one day, fictional hero James Bond would be driving a Saab, might well have been ridiculed. Now it's happened; and it's not seen as incongruous, but as a confirmation of the Saab image. That alone is a measure of the way in which the Saab 900 turbo has caught the imagination of the public.
As soon as it was introduced, the Saab turbo was hailed as a car which genuinely broke new ground: the performance car of the future.
It brought the mystique and appeal of turbocharging into the realms of family motoring, and offered a combination of performance, economy and practicality which is still unique.
Then, in May 1981, the new James Bond novel —'Licence Renewed' by John Gardner—was published to great critical acclaim and an immediate place in the best seller lists, where it was to stay for some weeks.
007's car in detail
The James Bond Saab is fitted with all those little extras essential to the modern secret agent as shown in the picture below.
Note the specially developed turbo engine which, with the aid of water injection raises the power to 175 BHP—still from only 1985 cc!— and provides a 0-60 mph time of less than 8 seconds. Top speed? 145 mph plus.
These special refinements raise the Saab 900 range to a new level of prestige and credibility— alongside the Bentley, Aston Martin and Lotus previously associated with Bond.